Post by =TRIANGULAR= on Oct 24, 2022 21:54:36 GMT
OK, I've curated slightly upgraded TRIANGULAR μOS 1.30/C128 which I am releasing right now. System Disk is only in D81 file for 3.5" 1581 type drives because of loading speed gains (main program load tome is further down from 13.2 seconds on 1571 to 6.9 on 1581 - for comparison on 1541 it was 1 minute 16 seconds). So if you want (1571) D71 or even D64 (1541) file please use DirMaster or similar tool and just copy 3 system files into new disk.
Not much corrected since last RC since I had some problems with emulators (right now for me VICE 3.5 works somewhat OK, while testing 3.6.2 build - seems OK too) plus heavily POKEd program's in C128 BASIC 7.0 mode have problems running. Not to mention my recent severe time deprived time schedule, so TRIANGULAR μOS will not be upgraded on current pace in the future. This version while released as TRIANGULAR μOS 1.30/C128 final is in deed very beta and not stable with most issues with games (this is even more debugged codebase like stable C64 version, but POKEs used in BASIC 2.0 manner are not so welcomed in C128 Mode). Because of all reasons cited above there is no there is no SDK, no video, no manuals (which won't be included also in future versions).
But I'm looking forward to future conversion process to BASIC 7.0 commands which, I hope, will cure all problems that last BASIC 2.0 version (1.30/C128) has.
What's new in TRIANGULAR μOS 1.30/C128:
- TRIANGULAR μOS supports Commodore 128 in its native C128 BASIC 7.0 40 column mode
- Memory variables moved to new location of tape buffer and other changes to accommodate somewhat different Commodore 128 architecture
- Memory for sprites expanded from 2 to 3 sprites
- Visual theme updated to C128 inspired colors
- System Disk only in D81 file for 3.5" 1581 type drives
- Minor bugfixes and improvements
- Manual and other extras depreciated
DOWNLOAD TRIANGULAR μOS 1.30/C128:
www.mediafire.com/file/tg5brawmfjfvbgr/TRIANGULAR_uOS_1.30-C128-D81.zip/file
TRIANGULAR μOS 1.30/C128 updated theme: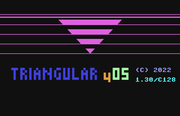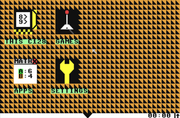 YouTube preview of nearly identical TRIANGULAR μOS 1.25/C64 for Commodore 64:
What's in future?
After accomplishing (partially) goal of reaching C128 with BASIC V2 wersion I will be moving TRIANGULAR μOS code into realms of BASIC 7.0 structured programming and other extra features of C128.
Meanwhile, I am slowly studying C128 literature (already I've read C128 Introductory Guide booklet, now I'm reading C128 System Guide and I will also read C128 Programmers Reference Guide and Mapping C128). Then with that knowledge I will go for another try with BASIC 7.0 in future TRIANGULAR μOS 1.31/C128.
My roadmap of TRIANGULAR μOS:
1. Converting current version into BASIC 7.0 and updated Commodore 128 architecture in next releases (1.31.C128, 1.32.C128, etc...)
****
TRIANGULAR μOS 1.05/PET for Commodore PET on Lemon64 forum:
www.lemon64.com/forum/viewtopic.php?t=78834
TRANGULAR μOS for Commodore VIC-20 on Lemon64 forum:
www.lemon64.com/forum/viewtopic.php?t=79488
TRANGULAR μOS for Commodore VIC-20 on DENIAL forum:
sleepingelephant.com/ipw-web/bulletin/bb/viewtopic.php?f=2&t=10352
TRANGULAR μOS for Commodore 64 on Lemon64 forum:
www.lemon64.com/forum/viewtopic.php?t=80381
TRIANGULAR μOS for Commodore 128 on Lemon64 forum:
www.lemon64.com/forum/viewtopic.php?t=80716