Post by =TRIANGULAR= on Oct 24, 2022 21:54:36 GMT
After 2 weeks of development TRIANGULAR μOS 1.34 is ready to release.
In this release one of mayor change is addition of 3rd game: CRAB IN NEW YORK. Also SIMCITY is debugged and works.
Windows loops positions are now relative in tune to window generator. Mouse routine is further improved and mouse pointer position is change so it's not in top-left character but slightly off to character center.
DO...WHILE loops are discharged since they had severe limitations and do not offer significant advantage in μOS spaghetti code.
Also more BASIC 7.0 commands (e.g., HEX$, BUMP) are implemented. And other bugfixes.
What's new in TRIANGULAR μOS 1.34 for Commodore 128:
- Windows loops changes to relative windows position
- Mouse routine improved and mouse position changed
- More BASIC 7.0 commands added
- SIMCITY bugfixed
- CRAB IN NEW YORK (a 3rd game) added
- Bugfixes
DOWNLOAD TRIANGULAR μOS 1.34:
www.mediafire.com/file/prbwltxa7xrngs3/TRIANGULAR_uOS_1.34.zip/file
DOWNLOAD TRIANGULAR μOS 1.34 SDK:
www.mediafire.com/file/olescpbjjtn2zyf/TRIANGULAR_uOS_1.34_SDK.zip/file
TRIANGULAR μOS 1.34: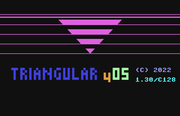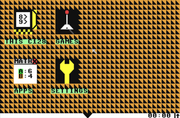 YouTube preview of TRIANGULAR μOS 1.25/C64 for Commodore 64 which is nearly identical (besides different color theme and 2 additional games):
What's in future?:
Upcoming TRIANGULAR μOS 1.35 will introduce floating windows. A 4rd game (STAR WARS: X-Wing vs TIE Fighter) will be added.
Some new smaller features will be added. Documentation and testing of this version will be conduced more completely since this version will be first really complete version for C128 (on par with 1.25 for C64)
My roadmap of TRIANGULAR μOS:
1. Version 1.35 will further convert current version into BASIC 7.0 code and will have all 4 planned games
2. From version 1.36 and upward custom assets will be added and μOS will change its look
3. Version 1.40 will support Commodore 65/MEGA65 with BASIC 10.0
4. Version 1.50 will support MEGA65 with BASIC 11.0 / '65 BASIC'
****
TRIANGULAR μOS 1.05/PET for Commodore PET on Lemon64 forum:
www.lemon64.com/forum/viewtopic.php?t=78834
TRANGULAR μOS for Commodore VIC-20 on Lemon64 forum:
www.lemon64.com/forum/viewtopic.php?t=79488
TRANGULAR μOS for Commodore VIC-20 on DENIAL forum:
sleepingelephant.com/ipw-web/bulletin/bb/viewtopic.php?t=10352
TRANGULAR μOS for Commodore 64 on Lemon64 forum:
www.lemon64.com/forum/viewtopic.php?t=80381