Post by willymanilly on Sept 3, 2018 15:31:08 GMT
Has anyone ever explored splitting the VDC screen into a bitmap and text modes similar to what can be done the VICII?
I've done some preliminary testing to see if it can be done and am using the VDC lightpen register triggered by the CIA to assist with removing as much jitter as I can as an attempt to get a stable raster.
I'm not sure if is is possible to remove the jitter totally because of the different clock the VDC uses compared to the rest of the computer but I'm getting promising results.
Attached is a simple test program I'm working on which I welcome others to build upon.
At the moment there are only 5 tests available by pushing keys 1-5
1. Change background color at trigger point
2. Change from mono text ==> mono bitmap at trigger point

3. Change from color text ==> color bitmap at trigger point

4. Change from mono bitmap ==> mono text at trigger point

5. Change from color bitmap ==> color text at trigger point

Other keys:

A - shifts trigger point to the left. *

D - shifts trigger point to the right. *

X - exits the program
*note: trigger point can be shifted off screen to next raster line.

You should be in 80 column mode and enusre there is text on the screen before running the program to see best results. I plan on updating the program in future to automatically configure the screen to show text.
I have not been able to get a jitter free screen for Test 4 or 5.
Test 2 and 3 are jitter free by default on my PAL c128D. Other machines might need to adjust the trigger point by using keys A and D. I would be interested in results from other setups and welcome any suggestions on how to further reduce the VDC jitter.

I've done a lot of updates recently to the VDC emulation in Z64K to support more features and screen modes but there seems to be a lot more to explore to get it perfect.

See source for more information on how the test program works and feel free to ask me any questions.

Test 1
Test 2
Test 3
Test 4 (Unstable - can't remove jitter)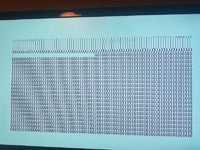 Test 5 (Unstable - can't remove jitter)